The Art of Original Thinking by Mindshare
Mindshare brought yet another innovative event to the region with "The Art of Original Thinking," a one-day event held at Fairmont The Palm Dubai on August 30th.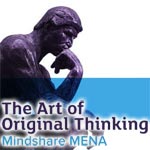 The exciting event was coordinated in appreciation of Mindshare's most outstanding performers, who have consistently demonstrated their dedication and innovation in their work. Attended by senior team members and star performers from Mindshare MENA, "The Art of Original Thinking" brought together an impressive selection of high-profile figures that are revered for their abilities to think outside the box and garner immense success in a diverse array of professions.
The first speaker was none other than Perry McCarthy, the Formula 1 daredevil who skyrocketed to fame after being revealed as "The Stig," the mysterious character of BBC's "Top Gear." The driver and author presented "Believing in the Impossible," inspiring attendees to follow their dreams through innovative thinking.
Founder of Orcasci and Imaginatik Mark Turrell discussed how patterns of behavior form, an immensely valuable lesson for media and marketing experts to better understand the popularization of trends. Marketing expert and former JWT Global Creative Director Gordon Torr introduced "Managing Creative People," a valuable explanation of how to bring the best out of your most creative team members.
Picstash CEO Niall Harbison gave advice on living memorably; similarly, entrepreneur Tom Oliver shared his best practices towards maximizing personal creativity for a more fulfilling life.
"We always strive to introduce cutting-edge events that reflect our values and position," says Mindshare MENA CEO Samir Ayoub. "Original thinking is at the core of everything we do. 'The Art of Original Thinking' not only provided fascinating stories and valuable expertise from a panel of world-renowned leaders in many fields, but generated a lively dialogue among Mindshare's management and rising stars across the region. We are thrilled to bring this stimulating event to our people, as we care about their development and career growth."