High fives as WPP scores 'a quintuplé' in Cannes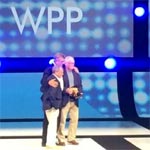 For the fifth consecutive year, a winning performance from its agencies has handed WPP the title of Holding Company of the Year at the Cannes Lions International Festival of Creativity.
Cannes Lions is the world's biggest celebration of creativity in a commercial setting, and a Lion trophy is the highest accolade in the advertising and marketing services industry. The holding company award is based on the total number of points won by each group's agencies during the week of the festival.
Agencies from more than 50 different countries contributed points to WPP's total. WPP finished first ahead of Omnicom and Publicis respectively. Ogilvy & Mather won Network of the Year for the fourth time in as many years.
Earlier this year WPP was also named – for the fourth time in row – the world's most effective holding company by the Effie Index, which recognises the effectiveness of marketing communications.
Winning work from WPP agencies included: Grey London's "Life Paint" (Volvo); Ogilvy Beijing's "Great Chinese Names for Great Britain" (Visit Britain); "Red Light App" by Y&R Team Red Istanbul (Vodafone); "Abla Fahita" by J. Walter Thompson Cairo (CBC Egypt); "Interception" from Grey New York (Volvo); David Miami's "Proud Whopper" (Burger King); "Melanoma Likes Me" (Melanoma Patients Australia) by GPY&R Melbourne and Brisbane; Grey New York's "Gun Store" (States United to Prevent Gun Violence); "House of Mamba" from AKQA London (Nike); "The Marathon Walker" by Ogilvy Paris (Water for Africa); Grey Germany's "The Berlin Wall of Sound" (Soundcloud); "It Happens Here" (28 Too Many) by Ogilvy London; "Microsoft Collective Project" by POSSIBLE Seattle; "Coke Thirst" by J. Walter Thompson Brazil; "The Last Shot" from AKQA San Francisco (Jordan Brand); and Prolam Y&R Chile's work for UNICEF.
Sir Martin Sorrell, founder and CEO of WPP, said: "We are delighted to have made it a quintuplet (or should I say quintuplé?) of wins in Cannes. The holding company award is special because it is a shared achievement, reflecting the hard work, passion and commitment of every member of the WPP family. A big thank you to our agencies and all the hugely talented and creative people within them.
"However, this week of celebration has been overshadowed by loss and sadness for many people after the untimely deaths of two colleagues and friends during the festival. On behalf of WPP I would like to extend our deepest sympathy to everyone affected by these tragic events."
John O'Keeffe, Worldwide Creative Director of WPP, said: "Anyone who doubts the transformational power of creativity need look no further than the Palais this evening. Of course it's wonderful to be named Creative Holding Company of the Year, but each individual winner tonight, from wherever they came, is testament to an amazing industry full of incredibly talented people. My congratulations to them all.
"Regarding the sad events here in the past few days, I would, of course, wish to echo the sentiments expressed by Martin."